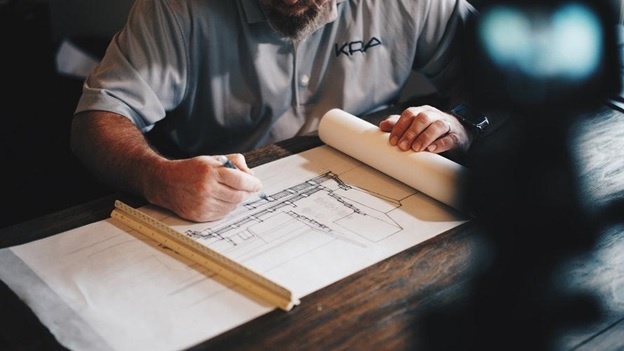 One of the most common questions from home builders is, "How long will this take?" Most experts agree it typically takes about 6 to 7 months to build a single-family home, from project authorization to when the construction is done. But there's no one-size-fits all approach to custom-building, and each home's timeline is a little different. Things like the size and type of home you're building, how complex and detailed your building plan is, the weather and even local governments all play a role. Plus, there are several things the homebuyer needs to take care of before the project can even begin. Here are some things to keep in mind, which can influence your timeline:
Preparation
Before you even talk to a design build firm like CMS Homes, you'll want to spend some time checking your credit score, applying for financing and setting a budget. Then do your research before choosing a design build firm or real estate agent and contractors, and get multiple quotes for your home before building. Once you've decided who to work with, what your budget is and where to build, you can start looking at designs. How long the design phase lasts will largely depend on you, so having a good idea of what you want/don't want beforehand can help streamline the process. Custom designed homes will, of course, take longer to design than using an existing plan or modifying an existing plan. You or your builder will also need to make sure you have all of the proper permits before you start building.
Lot Work
The lot where your home will be built will need to be prepared first. What that entails depends on the topography of your location; it could mean removing trees or minor excavation to level out the ground, along with pouring the foundation. Weather is a big factor in how long this step takes; a month is about the average. Also be sure to check with your builder if the lot will need to install things like septic, internet or electric hookups, as that can add time and expense to your project.
Framing and Exterior
Once the lot is prepared and the foundation poured, builders will start to frame up the skeleton of your new home, and put on the roof. Once the framing is done, it will need to be inspected. After it passes muster, the builder will finish the exterior. This part typically takes about a month to two months, but, again, weather is a big factor. Inspections can also cause delays, if it's a particularly busy time for the inspectors or if something needs to be corrected before the project can continue. It's important to set up clear communication and expectations with your builder before the process starts so they know to keep you in the loop if anything starts to drag your home's building timeline way down.
Mechanicals
Once the exterior of the home is all sealed up, workers will start to install the inner workings of your home. That includes HVAC (heating, ventilation, and air conditioning), electrical, plumbing, insulation, drywall, etc. If you're interested in installing special wiring for anything, like cable or a home security system, this is when it's cheapest and fastest to include it in the project. The plumbing and electrical work will also need to pass inspection. If all goes well, this phase should take about a month. But keep in mind, there are a lot of moving parts, particularly with several subcontractors working at once.
Interior
Here's where it starts to get fun, as workers finish up the drywall and start to paint walls and ceilings, and install floors and carpets. Different builders may have slightly different processes on which flooring they'll install before or after large appliances are installed. That should take about a month. Then, builders can start putting in the finishing touches with your fixtures, finishes and appliances. If you're doing landscaping as part of your build process, this is when that should happen. Those items could take another 3-4 weeks. Be sure to do a walkthrough with your builder toward the end of this phase to tidy up any loose ends and make sure everything is the way you want it to be. Bear in mind that last-minute changes will likely extend the length of this phase.
Last Checks
Once your home is done, it will need to go through a final set of inspections by either city or county building inspectors. You'll also want to do a final inspection of your own to make sure everything is perfect. This process, depending on how the inspections go, should take about a week.
Once you've done a walk-through with your builder and gotten approved, you'll be ready to move in!