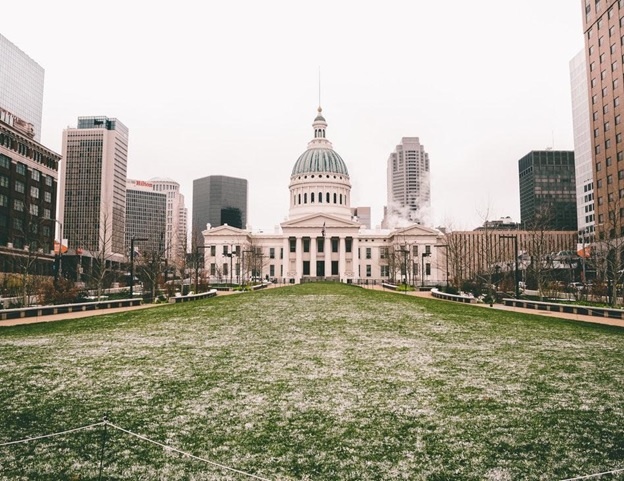 You've heard of St. Louis, Kansas City, and Branson, but what about the rest of the state? While some of Missouri's attractions are more famous than others, the Show-Me State has hundreds of towns and destinations that are worth a visit. Here are 5 of the best towns to visit in Missouri (other than the three we mentioned earlier).
Boonville
Population: 8,319
In the heart of Missouri lies Boonville, an area with a rich history. It was first occupied by Native Americans for thousands of years, and is home to burial grounds. It's named for Daniel Boone's sons, Nathan and Daniel Morgan, who settled there in the early 1800s after discovering a salt lick. From the pioneers to the Civil War and after, there are many historic sites to visit in town. Part of the Katy Trail, a 240-mile long park built on the former corridor of the Missouri-Kansas-Texas Railroad, runs through Hermann. For beer and/or horse lovers, nearby is the Warm Springs Ranch, a breeding farm for the famous Budweiser Clydesdales.
Hermann
Population: 2,431
Established as a German settlement in 1837, Hermann is a taste of the Old World with all the modern amenities. Located on the Missouri River, Rural Missouri Magazine voted Hermann as "Missouri's Most Beautiful Town" and recognized by AAA's Best of the Midwest poll. Perhaps most famous for its wineries, there are many places to visit and sample your favorite vintage. In the historic downtown, more than 150 buildings are listed on the National Register of Historic Places. In addition to the town's attractions, there are several festivals throughout the year, including, of course, Oktoberfest, to celebrate the town's German heritage.
St. Charles
Population: 65,794
"Historically awesome since 1769," St. Charles is about 30 minutes northwest of St. Louis and boasts plenty of historic and modern attractions for visitors to enjoy. Take a stroll through the city's historic district; visit Fast Lane Classic Cars, the Lewis and Clark Boat House and Nature Center or one of the other specialty museums; hike on the Katy Trail, the Weldon Springs Clark Trail or visit one of the other parks; or kick back and enjoy a brew at a local distillery. There is definitely something for everyone in this growing city.
Jefferson City
Population: 43,013
Named one of the most beautiful small towns in America by Rand McNally, Missouri's state Capitol offers a little bit of everything — shopping, history, entertainment, outdoor recreation and a thriving art community. The Capitol building hosts the Thomas Hart Benton murals and the Missouri State Penitentiary Museum houses artwork by inmates. Other museums and locales showcase the area's history, including the Museum of Missouri Military History, Missouri State Museum and the Lewis & Clark Monument.
Hannibal
Population: 17,808
For literature lovers, there's no better place to visit than Mark Twain's hometown. This picturesque town sits on the Mississippi River in northeastern Missouri, and provided the inspirational backdrop for Twain's most famous works. The Twain on Main Festival is held in his honor each May, as is the National Tom Sawyer Days. To really immerse yourself, visit the Big River Steampunk Festival, held each Labor Day. Even non-book lovers can take a riverboat ride, a "Haunted Hannibal" tour, and enjoy the town's shops, restaurants, art galleries and more.